*  JAKE STANDS UP *
                                                                    "I'm using the Idol of Burden on myself"      
                     THIS IS INFACT THE IDOL OF BURDEN  WHICH MEANS , ANY VOTES CAST FOR JAKE WILL NOT COUNT! HOWEVER, THE NUMBER OF VOTES THAT JAKE RECEIVES THIS TRIBAL , HE WILL TRANSFER IT TO THE ANYONE BUT THE PERSON WHO HE VOTED FOR!
                                                                                                 *ALEX STANDS UP*
                                                     "SOMEONE IS BEING A SNITCH, HAVE FUN FIGURING THAT OUT :)"
ALEX HAS USED THE IDOL NULLIFER, TO NULLIFY THE IDOL OF BURDEN USED BY JAKE, SO THE IDOL OF BURDEN IS NULLIFED, ANY VOTES CAST FOR JAKE WILL COUNT!
ALSO ALEX HAS CHOSEN TO USE HIS VOTE REVEALER, SO TONIGHT EVERYONE'S VOTES WILL BE REVEALED!
                                                                                                     PENALTY VOTES :
                                                                                             CHELLE (PENALTY VOTE)
                                                                                             CI'ERE (PENALTY VOTE)
                                                                                             JAKE (PENALTY VOTE)
                                                                                                       FIRST VOTE
                                                                                                       CHELLE 
                                                                                                    (Jake's Vote)
                                                                                                         CI'ERE
                                                                                                     (Tata's Vote)
                                                                                        (TAYNE'S VOTE)
                                WE ARE NOW TIED 2 VOTES CHELLE, 2 VOTES CIERE, 1 VOTE JAKE 1 VOTE BRADLEY
                                                                                              (LILLY'S VOTE)
                                                                                                    (JON'S VOTE)
                                    WE'RE TIED AGAIN, 3 VOTES CHELLE, 3 VOTES CI'ERE, 1 VOTE EACH FOR JAKE AND BRADLEY
                                                                                                   (MELISSA'S VOTE)
          "Treat me like shit and this is what happens. You might think you are the greatest survivor of all time but I think you are just a boy with a big ego!"
                               11TH PERSON VOTED OUT FROM SURVIVOR RORAIMA AND THE 4TH MEMBER OF OUR JURY
                                                                                                  (ALEX'S VOTE)
                                                                                            (CHELLE'S VOTE)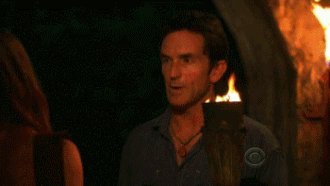 CI'ERE TRIBE HAS SPOKEN TIME FOR YOU TO GO 
                                             WELL THAT WAS CRAZY......................................GRAB YOUR STUFF HEAD ON BACK
Community content is available under
CC-BY-SA
unless otherwise noted.