Congratulations for making it this far but for now one of you will have to leave. Today we will be doing things Differently, Your Scores has been add up and to avoid pointing fingers, we have decided to add up your Challenge scores + Judges scores+ Contestants to your total score!
                                                                 BEST PERFOMANCE THIS WEEK IS 
                                                                                                      TATA
'T'HE JUDGES THOUGHT THIS IS COVER WORTHY. THIS IS WHAT WE WANT TO SEE. AND YOUR FELLOW MODELS THOUGHT THE SAME. YOUR SCORE IS 37 OUT OF 45. Congratulations your in the Final 3!
                                                                                 Runner up is 
                                                                                    SARA!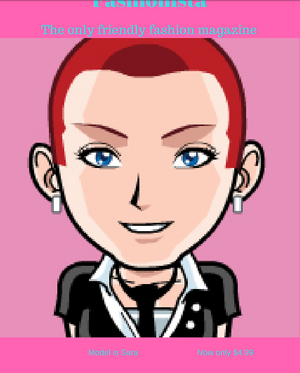 YOUR OVERALL SCORE FOR THIS WAS NOT AS HIGH AS TATA'S YOUR EDGY LOOK SAVED YOU IN THIS COVER. CONGRATULATIONS YOU ARE OUR CHALLENGE WINNER!!!!! :) . YOUR SCORE IS 31.25 OUT OF 45. YOUR IN THE FINALS!
                                                     WILL MALIK AND NATHANIEL STEP FORWARD
MALIK : YOUR COVER PHOTO WAS AMAZING. THE JUDGES AND THE CONTESTANTS THOUGHT IT WAS THE MOST CREATIVE YOU HAVE DONE BUT WHAT IS THE DOWNFALL THIS WEEK IS YOU DIDNT DO THE CHALLENGE!
NATHANIEL : YOU HAVE BEEN ON TOP FROM WEEK TO WEEK AND NOW YOUR HERE BECAUSE YOUR COVER WAS NOT THE BEST! THE JUDGES THOUGHT IT WAS LAZY AND NOT HIGH FASHION! BLAKE EVEN SAID IT WAS VISUALLY UNAPPEALING!
NOW BELIEVE ME GUYS THIS WAS INDEED CLOSE, ONE OF YOU HAD A SCORE OF 27 OVER THE OTHER WHO HAD A SCORE OF 26.25!
THE FINAL FINALIST IS..................................
                                                                                      NATHANIEL!
ALTHOUGH I THOUGHT THIS WAS GOOD! OTHERS DIDNT THINK IT WAS. AND IT IS YOUR JOB TO MAKE SURE THAT YOU PUT EVERYTHING INTO ONE SO THAT YOUR PHOTOS DON'T JUST SPEAK OUT TO ONE PERSON BUT TO THE WORLD! CONGRATULATIONS YOU ARE IN THE FINALS!
MALIK YOU HAVE BEEN AN AWESOME MODEL! YOU HAVE INDEED GROWN A LOT AND WE WISH YOU THE VERY BEST! BE PROUD OF YOURSELF, YOUR PHOTOS ARE AMAZING! GOODLUCK!