Hello Manga Models! Welcome to your Second Judging Panel! Now This Week it was all about Profesionalism and transformation  where you had to receive a makeover  and a photoshoot where you were each assigned a profession!
Tonight, We will find out who stays and who leaves us, Joining the regular panel is a Sensational Spicy Personality, he is well known for being one of the Top Players in the ORG Community, He has won over 8 Online Reality Games, He is indeed a huge fan of the Top Model Series and knows His Fashion statement , please welcome
                                      Miguel De Gouveia
Alright Guys Now The Winner of Mangatar Next Top Model will not go empty handed, I'm sure you all are wondering what they are
1. The First, The Winner will appear on the Cover of My Magazine which will be launhed in 2017. They will also get a 4 Page Spread displaying their Mangas. So that is a great prize.
2. The Winner will also get a feature presentation on my website , Young Nature, a lifestyle website, aiming on providing readers the best stories about lots of things relating to fashion, life and real life stories!
http://www.wix.com/website/builder?editorSessionId=095B8C67-3EE8-4169-B0B4-FCD2A44FFC55#!/builder/story/9b4924c6-e8b6-4027-a579-daf561885624:240dc7f0-27e5-4918-aed4-189adee893b6/preview
3. And of course the winner gets the Title of Mangatar's Next Top Model and will be added to the Winner's Gallery of the network!
Since there was no challenge , your performance will be based on how you score solely in your photos, 
First Up Sara,
Jo : This is funky, edgy , perfect! Look at how stunning her facial features are, this makeover has boosted Sara's eyes and it made her Stand out so much more, this an 8.5 from me.
Blake : I'm not entirely sure how this relates to being a nurse. I see nothing, apart from the shirt, that suggests nursing. Earrings are fine but the necklace is too heavy, in my opinion, for the career choice. I'm gonna give you a 5 here.
Mel :  This makes me wonder what you are hiding beneath that nurses uniform, quite frankly I wouldn't trust you to look after my man! To over the top for my liking, and the jewellery confuses the look.
Miguel : That BONE structure looks beautiful, I think this hairstyle is bold and works amazingly on you. I just wish you would've tried something more unique when it comes to your outfit. I'm giving you an 8.
Next is Tata,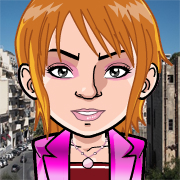 Jo : Look at you! This is a complete 360 degree transformation, and you look like a business woman Who knows her stuff, who knows her style and who knows her Brand! This to me is a................9.5!
Mel : Some colours are just not meant to go together! I love the fact that your clothes are coordinated and very professional, but I think choosing shades of pink really clash with the hair, and the makeup tends to cause your eyes to sink into the background. I give this a 7.
Blake : I like your choice of clothes, they are definitely professional. However there is way too much pink and red here and it is a little hard on the eyes and doesn't match at all. Your background reflects the fast-paced and busy city lifestyle of an entrepreneur so great choice.
Miguel : I love that you're trying new things and new styles that are so different from what we're used to seeing from you.... Having said that, there is kind of an "all over the place" feeling to this manga. It's like you don't know who you are in this contest yet, you don't know who you represent and who people will connect with and that's why I'm giving you a 8.
Next is Purry,
Jo : This is perfection! it hit the brief right on the head! To me This is high fashion and yet staying true to her character, however i was a bit off on how she behaved this week, this would have been a 10 but because of the lack of a professional attitude its a 9.
Blake : A very professional looking manga with respectable clothing fitted perfectly to the teaching occupation. The glasses and neat hair represent a very studious character and the background of the manga is very representative of a classroom. The only thing I am a little cautious about is the lipstick, which I think is slightly unprofessional for a teacher (although that is my personal opinion). Other than that, you have hit the nail on the head. Unlike Jo I will not be reducing points for "unprofessional" behaviour. Your score this week is a 9.
Mel :  I am a bit confused by this look, something more feminine would have hit the mark. The colours don't really do much for your eyes or your hair, and the lipstick is the wrong shade, too dark.
Miguel : I love this! I think this is sexy librarian done correctly, I mean your lips are hot, the background and your clothes all match the story you are portraying for us and even your facial expression let us know there's more to this story, something you're not telling us. I'll give you a 10, good job.
Next up is Nathaniel,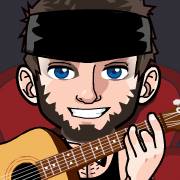 Jo : To me this photo is really sexy! like really!, it did lose the fashion statement for me, but i feel that you could have put in more color but i want more not just a sexy photo , i want high fashion and i want you to learn how to balance your sex appeal and the story you present, the sexiness is dominating this picture which does offset me , so it's a 6.5 from me.
Mel : This photo hits the brief, but the colours are too dark and plain. I would have loved to see your wild side jump out at me. The highlight of this photo is your beautiful blue eyes.
Miguel : IDK if it's the quality of the photo or the messiness of that beard but something just doesn't look completely right with your imagine tonight. There's a guitar in front of you but I don't find any music, I don't know what story you're telling me, what tale you're singing to me. I'm gonna give you a 7.
Blake : You have definitely pulled off the musician look and fir the brief very well. I definitely see you as a rocker with the band, messiness of hair and beard and guitar. The only thing that feels out of place is the bowtie, but everything else is great. I think some facial piercings or tattoos really could have added to your manga though and a better fitting background would have been great. I give you an 8.
Next up is Malik, 
Jo : This is an angry Strict Teacher and it works here , the hair the clothes everything about it works here, the facial expression is not desired to be completely honest but there is a story here and it is fashionable. But i need the WOW that i got last week.
Mel  : You do justice to the profession, but lack a certain style that compliments your hairstyle. I feel that you are trying to create an image that you don't really believe in and took the safe option. Love the bow tie but feel the jacket was too plain. I will give you an 8 as your face is animated, but your eyes seem to sink into the background. Where is the passion?
Miguel : To me, although the outfit seems good on paper, it looks kinda stale right now to me. I appreciate you owning your new makeover but I don't think it was a good choice to not use a background pic in order to give an appropriate background for us to relate to or even to grab our attention. I'll give you a 6.
Blake : I really like your outfit. I think it looks professional and the colours match really well. I wish you'd changed your facial expression because it seems a little too goofy for a teacher.
I'm also seeing a lack of passion or effort; there is no background and it seems like you just chucked this together in 10 minutes. Considering the amount of effort so many others went to it's not fair to give you a high score. You get a 3 from me.
and finally Antonio
Jo : This is the sexiest shot by a mile! he pulled off the sexy lawyer high fashion look, this is indeed amazing and a big leap from last week's picture. but i wish his facial expression was more lively so to me this a 9.
Blake : 100% agree with Jo here. You pulled off the sexy lawyer look very well, with the stubble, half on half off clothes, while they still look professional. Your bowtie suggests liveliness but the facial expression does not. Otherwise everything else is perfect.
Mel : I have to say that the stubble really is out of place, but I can look past that as the rest screams "Look at me!". High class lawyer, who knows what he wants and how to get his own way! Those green eyes stand out thanks to the bow tie and the hair is just hot! I would have to give you 9.5, without the stubble you would have been shooting for full marks.
Miguel : This was a really amazing manga omg your eyes, your hair, your bow tie your tattoo. It all fits perfectly, I just wish your glasses and your smile would've been a little more alive. I'm gonna give you an 9.
okay, Johnny Conor and Chelle , none of you mad your submissions because of various reasons, so your fate in this competition will be determined! 
Results will be posted!
Thank you to Miguel for gracing his presence in this week's Judging Panel!
Goodluck!